Industrial Application of Aluminum Foil
Share
Issue Time

2022/07/12
Summary
High resistance and relatively low cost make aluminum foil suitable for industrial applications. Whether for packaging or technical applications, aluminum foil offers countless possibilities and is indispensable in any branch of the industry.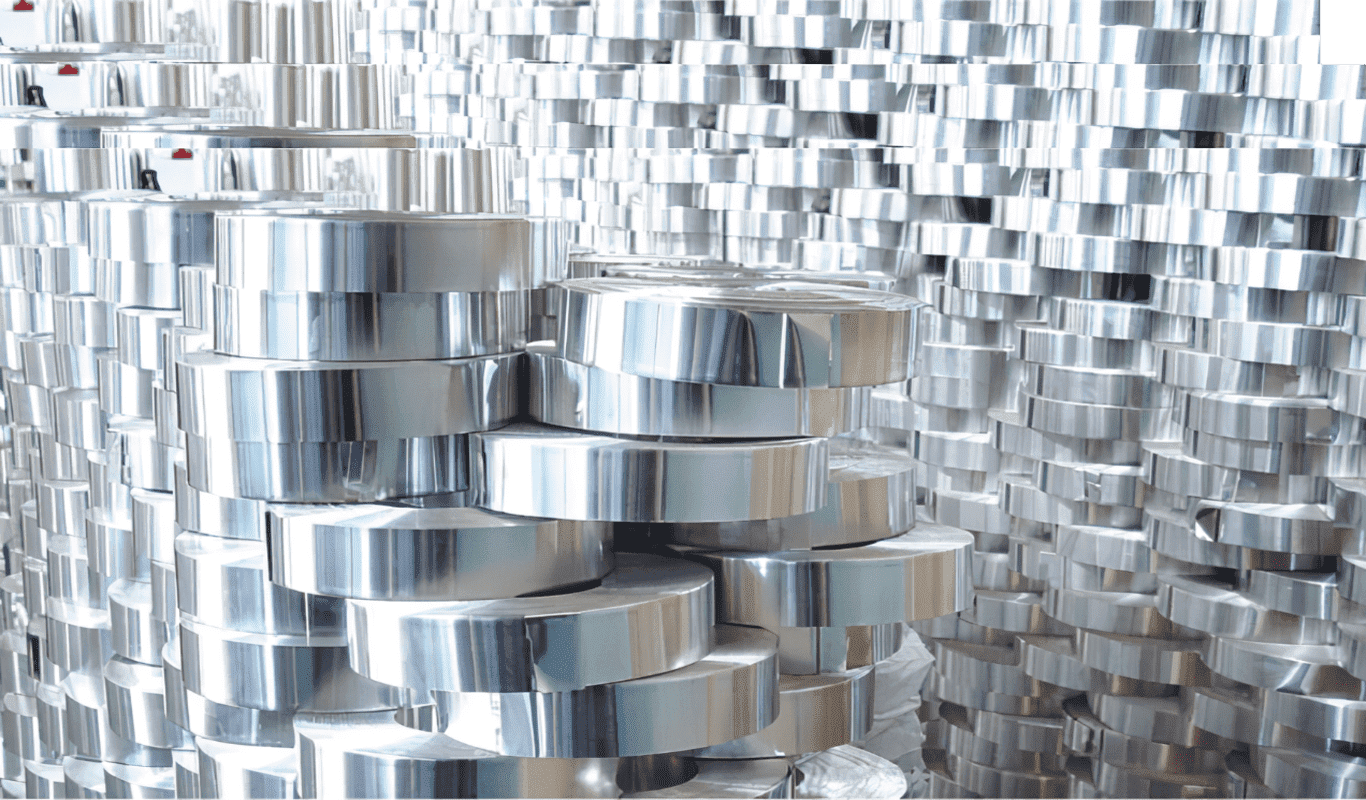 High resistance and relatively low cost make aluminum foil suitable for industrial applications. By alloying aluminum with other metals such as magnesium, manganese, copper, nickel, silicon, or zinc, various aluminum alloys and foils with different properties can be produced.
Whether for packaging or technical applications such as vapor barriers in house construction or insulation in ductwork – aluminium foil offers countless possibilities and is indispensable in any branch of the industry.
One of the most important fields of application for aluminum foil is insulation. For example, it is used as a thermal barrier for pipes and pipe insulation.
In the construction industry, aluminum foil is also used as the top layer of insulation materials such as asbestos, foam insulation boards, and laminate mats in building insulation. As a moisture barrier, the film ensures that no water vapor penetrates the insulating material, preventing mold formation and moisture damage.
In addition to its vapor barrier properties, aluminum foil also reflects approximately 96% of radiant heat, making it ideal for thermal insulation. They are also easily deformed or coated with protective paint, increasing their range of applications.
Aluminum foil for insulation is available in dense and perforated versions. Dense insulation is especially useful where a moisture barrier is required, such as in basement walls or saunas.
The perforated aluminum foil has small holes that allow air to circulate, preventing condensation during large temperature differences. This is advantageous in particular with regard to the insulation of roofs. Aluminum foil with larger holes is called punched or perforated aluminum foil. The perforated aluminum foil prevents condensation.
Due to the ease of handling, the use of aluminum foil allows for quick installation even in large buildings such as warehouses.
The lamination of mineral wool with aluminium foil also reduces the formation of fibers from mineral wool. Therefore, the aluminium foil also improves health protection and safety during insulation installation
Aluminum foil for cable insulation
Due to its lightweight and high electrical conductivity, aluminum foil is ideal for power cable insulation. This is especially important for heavy-duty high-voltage cables. Not only does it improve electromagnetic compatibility, but it can also be used to locate damage.
In addition, aluminum provides some degree of protection against electrical shock caused by cable damage. The barrier properties of aluminum foil also protect fiber optic cables from moisture and reduce interference with electronic devices in communication cables.
Aluminium foil as the basis for aluminium strip
Foil tape is a thin aluminum foil coated on one side with a heat-resistant adhesive. Compared to tapes made of plastic, aluminum tapes have the advantage of being highly heat-resistant. It doesn't become brittle from heat or cold, so it's more durable than plastic tape. Aluminum strips are always used where high or low temperatures must be tolerated.
Aluminium tapes are especially used in heating and ventilation systems. For example, pipe insulation is wrapped with thin wire to provide it with the necessary support. Then use aluminum tape to hold the wires in place. The joints and interfaces are also covered with aluminum tape for better insulation.
For example, aluminum is also used in the construction industry to close joints in vapor barriers or to prevent heat loss due to insulation leaks.
In electrical engineering, the aluminum tape is used as shielding. For this purpose, housing parts or openings are glued with self-adhesive aluminium foil or aluminium tape.
Aluminium foil for the packaging industry
The rise of aluminum foil in the packaging industry began as early as the early 20th century. Technological advancements have led to a rapid development from the use of aluminium as packaging for chocolate to the manufacture of aluminium beverage cans, coffee capsules, baking trays, and bottle caps. And aluminum packaging can also extend the shelf life of food.
Multilayer films made of aluminum and plastics (such as PET, PP, or PE) or paper are also used in a variety of food packaging, from coffee bags to cheese to yogurt and sausage packaging.
Aluminium foil is used in pharmacies to safely transport and store medicines. Aluminium is particularly suitable for this, as it ensures complete protection against light, gases, moisture, and bacteria. The so-called blister packs allow for the hygienic preservation of medicines and individual removal of the tablets, while others are completely immune to environmental exposure.
In the field of cosmetics, the target dose possibilities offered by aluminium tubes and aerosol cans and their hygienic properties play a decisive role.
Other applications of aluminum foil
In addition to the applications mentioned above, such as insulation and vapour barriers in the construction industry, insulation in the electrical industry, or applications in the packaging industry, there are many other fields of application for aluminum foil. The most important of these are the transport and logistics, vehicle manufacturing, and aerospace industries.
The above describes the application of aluminum foil in the industry in detail. If you want to know more or buy aluminum foil, please
contact us
.
PENGYUAN is a professional
custom thermal insulation aluminum foil manufacturer
. Our experts have years of experience to help you research your target market. Also, they will be there to help you determine whether your product meets the needs of the relevant market. This way, we'll make sure your business makes the best decisions.